Your home warranty team can face some of the most challenging situations in the home building industry.  The reason is obvious.  If a customer is contacting you, then something is wrong.  In a perfect world a little spackle, a little grout, a simple turn of the wrench and, boom, satisfied customers are happy again and your warranty team members are heroes. 
Unfortunately, it's not always this simple.  Requests get lost in a sea of emails, the vendor insists they were never contacted, the customer calls up saying, "It's been two weeks since I submitted my request and no-one has contacted me."  The result is crew members who feel they have been slighted on bonuses, the loss of trust with key vendors, and once happy customers frustrated with a team that, in their words: "doesn't tell the left hand what the right hand is doing." 
The Toll on Your Team 
Week after week and month after month, these broken processes take their toll on your team.  Nobody wants to arrive at work welcomed by a long list of complaints. Bonuses meant to incentivize become a source of anger and frustration that crew members feel powerless to overcome. Team members are frustrated, vendors are upset, homeowners are waiting, and warranty managers are caught between it all. 
If you have watched these scenarios play out, you know it's a matter of time until the best crew members get frustrated with processes that kill their bonus or challenge their integrity and start looking for another job.  Warranty managers become fatigued with the backlog of requests, team member frustrations, and customer complaints and start dreaming about other possibilities. 
After costing the average $4,162 for the new hire process, an excited new employee arrives and joins an overwhelmed and exhausted warranty team, and receive piles of paperwork with no idea where things stand.  
Now rinse, repeat and start the whole cycle over again. 
 If you're exhausted just reading this, don't lose hope! 
The Power of Tikit 
What if it didn't have to be this way?  What if there were an easy solution that drove your warranty processes, making deadlines clear, each project status live, and customer updates effortless? 
 Welcome to Tikit.  
Tikit is your one-stop software solution to effective team communication. Tikit creates confidence and commitment for team members by providing a clear process that leads to team success.  Here's how: 
Warranty Managers 
Receive notification immediately when a homeowner submits a request

 through a form on your website, or create a new ticket in the Dashboard yourself.

 
If 

the request is 

approved, a

ssign the appropriate 

crew member

 with the click of a button.

 

Save notes inside each ticket for the 

crew member

s to view.

 

Filter

 

tickets by 

crew member

, subdivision, etc and view ticket status, emails, photos, and homeowner sign-offs

 for each account 24/7, anytime, anywhere.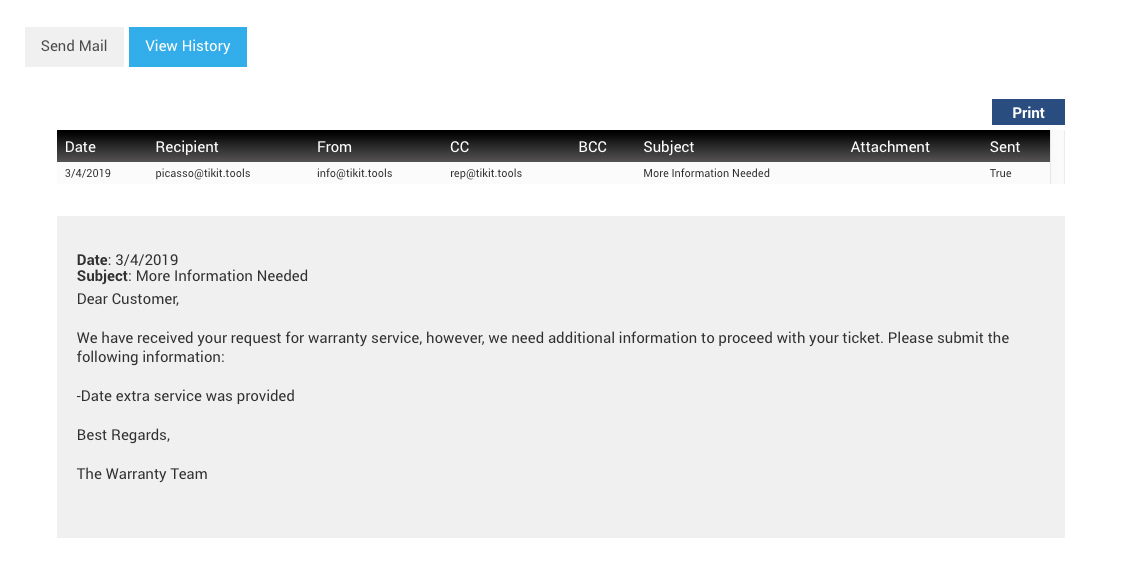 Crew Members 
Are immediately notified 

when they are assigned a ticket, and can see it immediately in their queue.

 

Have customer information

, notes

 and requests at their fingertips and can reach out immediately to the customer to schedule repairs.

 

Take photos with their phone or tablet and upload into the ticket dashboard.

 

Clearly track how many days the ticket has been open.

 
View all tickets assigned to them anywhere, anytime through 

the easy-to-use Tikit

 dashboard.

 

 

Access 

their tickets on their tablet or

 mobile device.

 

Secure homeowner approval

 

with the click of a button through Tikit's automated sign-off process – Tikit 

email

s the homeowner, who can digitally sign on Tikit's approval page.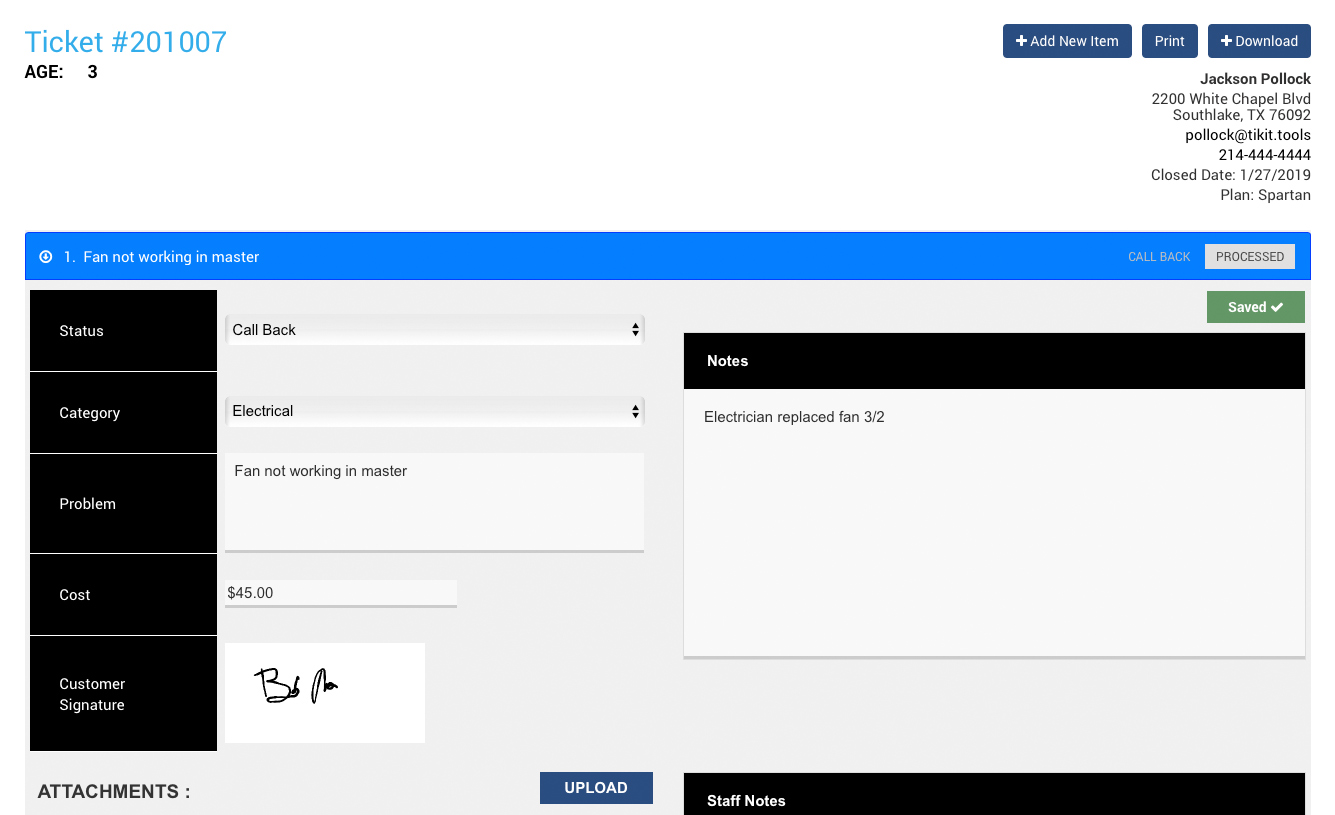 Warranty Teams 
Accounts can be closed with a single click, securing start and end dates for the entire team and recording the entire process in an easily accessible dashboard.

 

Reports can be generated providing transparen

t and simple tracking

: verification of timeliness, work completed, 

bonuses, 

common problems in certain repair categories and/

or subdivisions

, and more.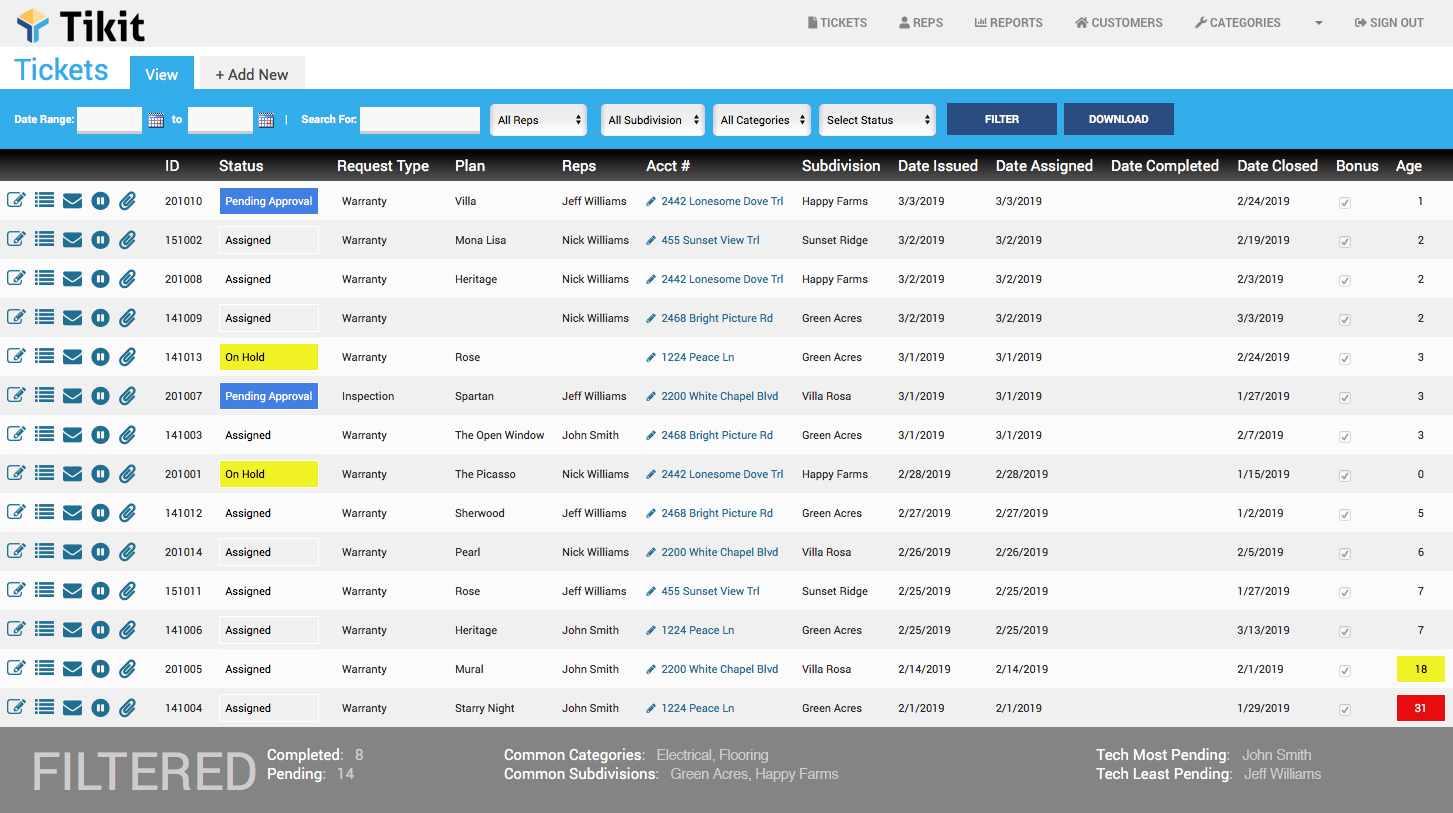 All of this working together means your team is no longer subject to the complicated and scattered processes that make communication frustrating.  Every team member has access anytime, anywhere on their mobile device to the tools they need to verify and track the entire warranty request process! 
Tikit can have an immediate impact on your team as communication is improved – fewer frustrations and more success. Improved outcomes build higher job satisfaction – keeping your team more committed to the process and each other.   
Top off your warranty team's commitment today! 
Schedule a demo to see if
 Tikit 
is a fit for you.