Warranty Management Software
Equip your team for success.
Tikit is a cloud-based project management software designed for warranty teams. You can use Tikit warranty management software tools to communicate, collaborate and complete requests faster and easier. And it's customizable.
How Can Tikit help Your Warranty Team?
From a single dashboard accessible from anywhere, anytime on any device, your team can:
View the status and age of each ticket
Admins can see who is assigned to each ticket in the queue
Take pics from tablet and mobile and upload right into each ticket
Central communication tools like email, texting, commenting and notes save time, remove frustrations and keep things transparent
Automate customer requests and approval
Tikit can be customized to better fit with your specific process. Trade piles of paperwork or sub-par apps for a collaborative warranty management software designed specifically for warranty teams.
Make Your Warranty Processes Easier and More Efficient
Tikit: Teams
Tikit supports the special roles in your team, such as admins, managers, and crewmembers who meet with customers. Admins assign tickets to crewmembers, who only see tickets assigned to them. 
Everyone can see important details, like the age of the request, current status, notes that have been logged by team members, other other relevant features.
Tikit: Tracking
Keeping track of hundreds of tickets is challenging. The Tikit dashboard makes this transparent and simple, allowing you to see the statuses of each ticket in one list. Want to see only completed tickets? No problem, use the filters in the dashboard to filter.
Want to see just one crewmember's tickets? Okay. The age of the ticket is also shown to ensure repairs are not being forgotten. If a ticket gets too old, the age will change colors to remind you.
Tikit: Communications
Between phone calls, emails and texts, communication can be tough in the warranty process. Tikit makes communication easy. Leave team or repair notes inside each ticket item. Send an email to the customer from inside the ticket and view email history. Need to assign the ticket to a new team member? No problem – all the info stays right inside the ticket for the new team member to review.
Tikit: Success
On-page filtering options give you flexibility – filter by assigned crewmember, subdivision, repair category, status, or even search for a specific note or problem. Download reports for verification of timeliness, work completed, common problems in certain repair categories and/or subdivisions, bonus structure, and more – your Tikit to tracking success.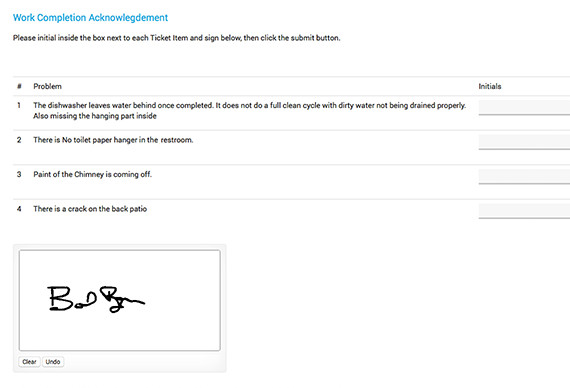 Allows admins and crewmembers to collaborate and process warranty requests more easily and smoothly
Improves quality and quantity of work
Smooth, smart processes and organization makes it easy for everyone, improving team contentment and commitment
Expands the quantity of manageable processes and tickets
Reduces time in each project
Improves project focus
Keeps track of the status of work tickets so you don't have to
Customer approval can be done digitally in the app – either in person or automated through email using the built-in digital signature page.
Data search, filtering and download simplifies and speeds up decision making
Completely paperless, but printing supported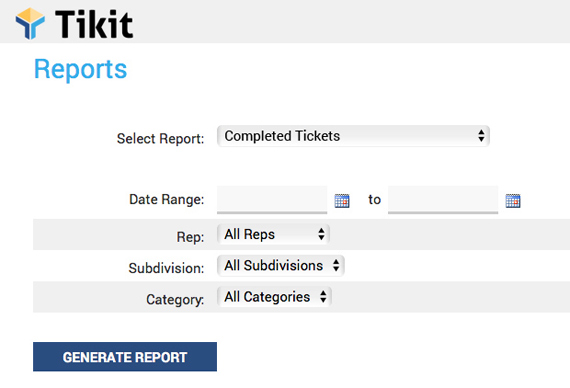 Our API allows you to accept warranty requests on your website or through our dashboard. Requests are automatically entered into the queue "on hold" until an admin approves and assigns the request.
Simple and organized interface makes it easy to work through all tickets
Ticket status and age improve timeliness, keeping tickets in front of managers and crewmembers
Search, filters, sorting and reports allows you to easily see the data you need, such as certain ticket status and tickets per crewmember, subdivision, repair category – for any date range.
Automate customer approval when a ticket is completed. The Tikit dashboard can email the customer a link to digitally sign off on the work completed.
Recognize common issues occurring in a single subdivision
Upload files and photos to each ticket, make notes, track repair costs
Desktop version for admins. Tablet / mobile version for crewmembers by default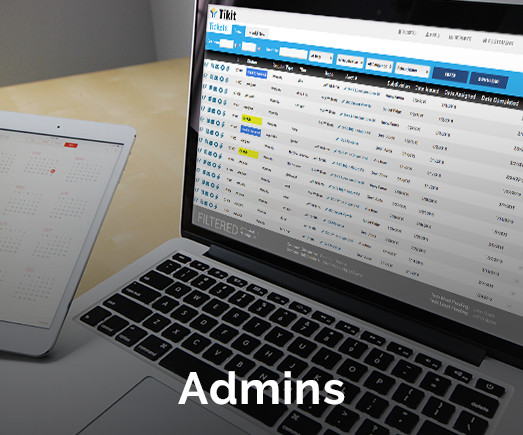 View all tickets in a single dashboard for easy management
Collaborate with crewmembers to process a ticket more easily and smoothly.
Quickly edit anything in a ticket or ticket item
Ticket items for a single customer can be viewed in one place quickly and efficiently
Post a staff note in a ticket for the assigned crewmember, who will also receive an email notification with the note
Easily see the age of all tickets to make sure no one is lagging behind
View tickets for just one crewmember
Search for a specific problem or note
Upload files and photos into a ticket for team access
View tickets of any status in any given time period
Recognize common issues across a specific subdivision or repair category like electrical, plumbing, roofing, etc.
Review communications sent in the dashboard
Download reports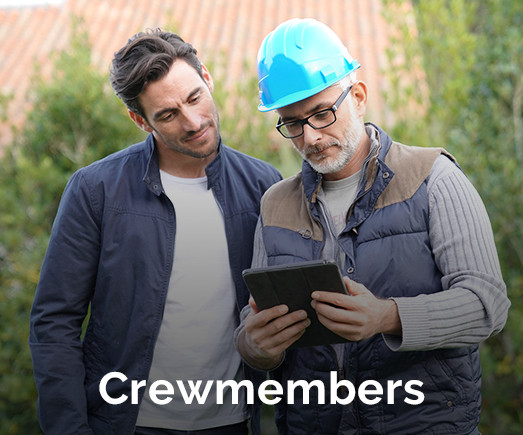 Allows crewmembers and admins to collaborate and process a ticket more easily and smoothly
Crewmembers have their own dashboard to view tickets assigned to them
Features like notifications, reminders, and emails keep crewmembers on track and prioritized
Make notes and have customers digitally sign off on the ticket after work is completed
Tikit's automated digital customer sign-off process means crewmembers don't have to meet with the customer in person to get final approval 
Upload files and photos into a ticket for team access
See staff notes from admins
All data is real-time
Crewmembers are incentivized by bonuses (if applicable). The tickets dashboard helps them stay motivated by displaying their current bonus total.
Download reports relevant to their tickets